Summer is here, so all the shows have slowly come to an end- season finale that is... apart from the ones which have permanently ended like
House
,
Desperate Housewives
amongst others. Will miss the ladies of Wisteria lane. Moving on, Shonda Rymes why oh why *Spoiler alert did Lexie have to die on
Greys Anatomy
. I balled my eyes out, it was too sad. There was no shock value for the season finale of
Private Practice
, another great show by Shonda Rymes. Then
Gossip gir
l I watch it just because... Blair and Dan's romance was too ewww to watch, yay for Blair and Chuck... and Bart Alive!! Okay moving on...
For comic relief
Modern Family
, can't even pick my favourite because they are all sooo funny. Then I started to watch
Surburgatory
, my favourite character is Ryan, he is just so clueless its unbelievable. I'm still trying to get my head round Jeremy Sisto as the dad because I keep picturing him as Billy, Rachel Griffiths (Brothers and Sisters) Brenda's weird brother on
Six Feet Under
- a show that no one I knew watched, but was such a brilliant, brilliant show just like the next brilliant show I'm going to dedicate this next section to.... Drum roll...
Mad Men!
*Phew*
Mad Men
was back for another season and it lived up to its expectations. This season was a whole lot more spectacular than previous seasons so I guess it was worth the wait. Only other thing though, was you had to keep trying to remember the previous episodes from former seasons, because a lot of it was tied in somehow with this season.
I was glad mad men came back to our screens again because it ticked all the boxes (for me) of what a great TV drama should be. Also just out of the box calculated drama that makes you really think and if you blink too much, stood the chance of missing details that were so neatly/intricately written into the whole fabric of the show.
So,Thank you Matthew Weiner and the rest of the writers for creating such a show as this. Can't wait for next season....
Can't write about mad Men without putting pictures of the fabulous 60's fashion *wink*wink
Pictures below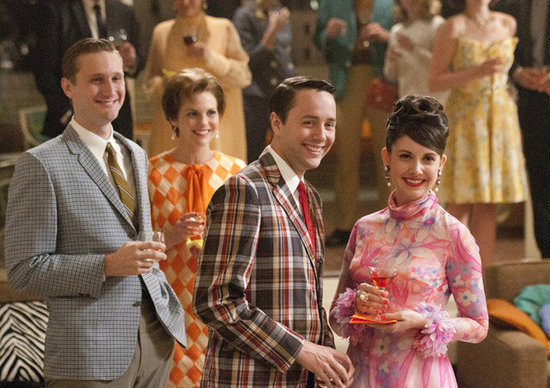 Psychedelic dress
Megan's "Zou Bisou Bisou" moment lol
Lovely Coral evening gown
Also I'm so glad I Just discovered
Monarch of the Glen,
slowly going through it, I'm sure it will tide me over till the summer ends....
xx.L