Maali will showcase our clothing at the annual Tuk Ham Festival in Kwoi, Kaduna State Nigeria.The Tuk Ham festival is a cultural event which takes place in Kwoi every year around Easter and has been going on for decades. It showcases the rich history of the Ham people of Kaduna State Nigeria.
Tuk-Ham annual festival is a fusion of both "Ku" and "Fain" festivals which were known to be celebrated by the forebears of the Ham (Jaba) people. It features a lot of traditional and cultural displays, traditional dances, and many other processions in Kwoi which is just about 187 kilometres from Kaduna.The two-day ceremony is normally preceded by a symposium and Tir-Ham (Miss Jaba) which will be on April 2, 2010 and is rounded up with cultural displays and a Gala night on April 3, 2010.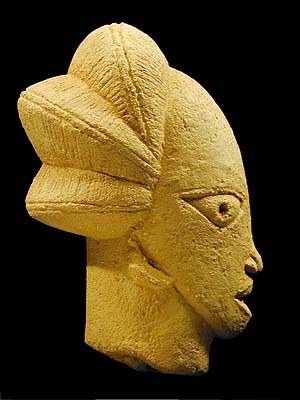 Nok Terracota Head: Female Statue
Age: 900 to 1500 years
Nok Terracota Head
The Nok culture appeared in Nigeria around 1000 B.C. This region lies in Central Nigeria. The culture's social system is thought to have been highly advanced. The Nok culture was considered to be the earliest sub-saharan producer of life-sized Terracotta. Nok culture terracottas are heralded as the prime evidence of the refinement of African civilizations. The population was about 2000-4000 people.
Nok Culture: Evidence shows the Nok people had knowledge of iron smelting and adorned themselves with tin and stone beads, earrings, nose rings and bracelets. The Nok Culture is dated between 500 B.C. and 200 A.D.
Although every Nok head is unique, certain stylistic traits are found throughout. Triangular eyes and perforated pupils, noses, mouths, and ears combine to depict men and women with bold, abstracted features. Perhaps the most striking aspects of Nok sculptures are the elaborately detailed hairstyles and jewelry that adorn many of the figures. The variety, inventiveness, and beauty of their design is a beguiling record of cultivated devotion to body ornamentation.
Department of Arts of Africa, Oceania, and the Americas. "Nok Terracottas (500

B.C.

–200

A.D.

)". In Heilbrunn Timeline of Art History. New York: The Metropolitan Museum of Art, 2000–. http://www.metmuseum.org/toah/hd/nok/hd_nok.htm (October 2000)
For sponsorship and attendance contact:
Chocolate City Group
9 Kampala Street,
off Adetokumboh Ademola Way
Wuse 2,Abuja

or email:
chocolatecitynig@yahoo.co.uk
Maali is proud to be a part of Tuk Ham Festival 2010